2022 Hyundai Santa Cruz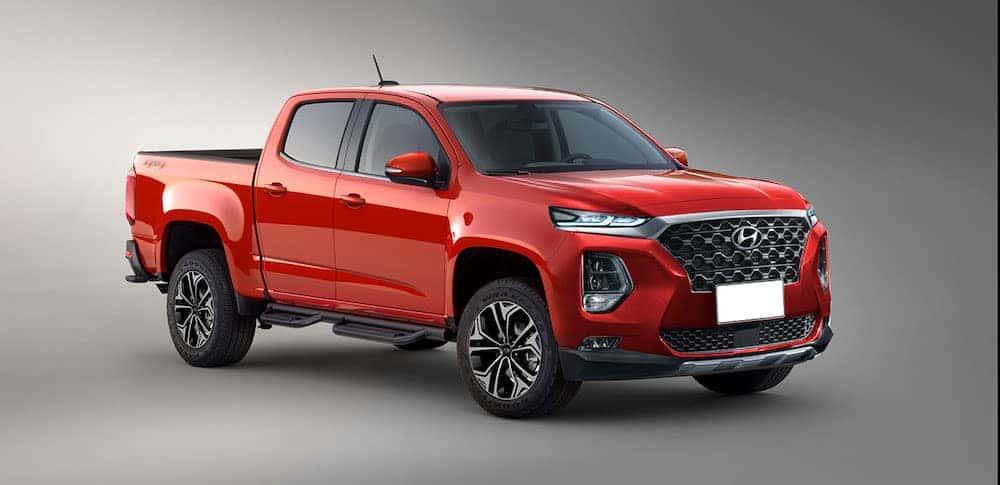 If you're excited by the buzz surrounding the Hyundai Santa Cruz, you're in good company. This upcoming model is drawing tons of attention as it inches nearer and nearer to the spotlight. With a debut on the horizon, now is the perfect time to get the latest info on the Hyundai Santa Cruz truck. Read on below with our team to find out more about the new Hyundai truck, coming soon to Mobile, AL!
Hyundai Santa Cruz Truck: What We Know So Far
The Hyundai Santa Cruz truck is hotly anticipated for the next model year. So, what do we know about this innovative model so far? The front-end is rugged and stylish, drawing inspiration from the newly redesigned 2022 Hyundai Tucson. The hammer-like horizontal tail lights offer a look for this model that will set it apart from the drab and familiar models on the road.
In contrast with original prototype designs, the new Santa Cruz is set to feature a proper crew cab with four full doors. These design elements will allow you to easily take over the Ft Walton streets while looking incredible. The power and precision of the Santa Cruz will align with the competition, while the radiant style will clearly separate it from the pack!
Hyundai Santa Cruz Release Date
If you're a truck enthusiast or a Hyundai fan, you've likely been wondering about the Hyundai Santa Cruz release date. While we don't yet have information on exactly when the model is set to be released, we do know that the 2022 Hyundai Santa Cruz release date is set for later this year. This model is frequently spotted going for test drives, so the debut is just around the corner!
Stay Up to Date on the New Hyundai Truck!
If you'd like to be among the first drivers in Gulf Breeze to secure the keys to the new Hyundai truck, contact us today! Our team will keep you updated on the Hyundai Santa Cruz so you can be prepared to buy. If you want to get ahead of the game, you can apply for financing to get pre-approved to buy your new Hyundai truck! Just say the word and our financiers will get to work to build a financing plan that suits you! We're also happy to tell you more about other compact Hyundai models, like the all-new Venue SUV!
More from Allen Turner Hyundai
First introduced in 2020, the Hyundai SONATA has won numerous awards and become a standard pick for families seeking a midsize sedan. Sales for the SONATA are up 39% year over year, proving the model's popularity. Hyundai's tireless commitment to quality design and forward-thinking features is evident in every aspect of this vehicle. The 2024 Hyundai…

If there's one thing Pensacolans know—besides our pristine beaches and rich history—it's a great burger. In a place where the ocean breeze complements the aroma of grilling patties, Pensacola is a haven for burger enthusiasts. From smoky barbecued masterpieces to Irish-inspired delicacies, the options are endless. If you're hungry for the best burgers in the…

If you're interested in an all-electric vehicle, the Hyundai IONIQ and Tesla are sure to make it on your list of potential purchases. Though Tesla has long made a name for itself in this realm, Hyundai is making big waves in the market thanks to the automaker's continued high standards and forward-thinking designs. At Allen…