2024 Hyundai Lineup: Kona, Sonata, Santa Fe and More
Hyundai returns this year with its 2024 models, providing options that further demonstrate the brand's advanced ambitions and futuristic character. Ranging from luxurious upscale electric vehicles (EVs) to improved versions of well-loved SUVs, there'll be plenty within the 2024 offerings to please a variety of drivers and passengers. The second-most successful manufacturer in electric vehicle sales, only surpassed by Tesla, Hyundai currently offers nine different electrified vehicles, including four hybrid models and one fuel-cell model, which is indicative of the brand's mission to go fully electric by 2040.
Today, though not much information has yet been made available about the full range of 2024 releases, we'll dive into the delicious details of four of Hyundai's most captivating 2024 options. We'll examine their revamped exteriors and upgraded interiors as well as their impressive powertrain options, and reveal whether they have internal combustion engines or fully electric systems.
What's New in 2024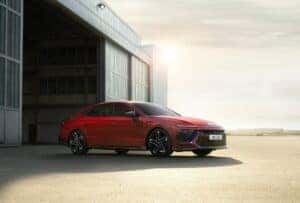 Electric vehicles are the star of the show when it comes to Hyundai's 2024 lineup. Not only has the company revamped some of its popular all-electric vehicles, but it's also made sure to include plenty of hybrid versions of Hyundai classics among the cars' individual trim levels. Today, we'll focus particularly on the four most notable designs: the Kona, the Ioniq 6, the Sonata, and the Santa Fe.
2024 Hyundai Kona
The 2024 Hyundai Kona has received some of the most significant changes out of the vehicles on this list. Not only has Hyundai redesigned it with an ultra-futuristic exterior look, but the Kona has also received a luxurious interior makeover. From fun and funky to eccentric and outside-the-box, the Kona has earned a reputation for being one of the most unique vehicles on the road today. The 2024 Hyundai Kona is completely redesigned, but it still has the same funky feel as past Kona's. It's once again a sporty vehicle featuring a boxy frame with all kinds of curves that'll make you stand out when you cruise around Pensacola.
You'll be able to pick from two engines when you invest in a 2024 Kona. The standard engine will be a naturally aspirated 2.0-liter engine that can produce up to 147 horsepower and 132 pound-feet of torque. But there will also be an available turbocharged 1.6-liter engine that can produce up to 195 horsepower and 195 pound-feet of torque. Regardless of which engine you choose when buying a 2024 Kona, you'll enjoy the agile handling and responsive suspension system that'll smooth out any bumps you encounter.
Performance-wise, the 2024 Kona is incredibly aerodynamic, with a drag coefficient of just 0.27. The Electric model gets up to 260 miles of range on a single battery and will charge from 10% to 80% power in just 43 minutes. On the inside, the Kona will come with dual 12.3-inch displays. The first one will serve as a reconfigurable gauge display, while the second one will be for the KONA's infotainment system. There is also likely going to be an updated user interface for the infotainment system and other perks like wireless Apple CarPlay and Android Auto included, though Hyundai is yet to officially confirm this.
2024 Hyundai Ioniq 6
The 2024 addition to Hyundai's upscale EV line, the Ioniq 6, is undeniably electric in appearance, taking on a unique, swooping-low build that's only made possible with an electric engine. Plus, thanks to its sleek shape, it has a drag coefficient of only 0.21, putting the Ioniq 6 nose to nose with the Tesla Model 3. It'll also be a bit larger than the Ioniq 5, allowing for a super roomy interior, particularly for backseat passengers. There'll be two interior trim options, both made with sustainable materials, such as recycled plastics and flaxseed oil dye.
The Ioniq 6 will feature the same battery pack as the previous Ioniq 5, which means it stands to produce up to 320 horsepower and 446 pound-feet of torque. Using rear-wheel drive, the low drag coefficient will allow the vehicle to go up to 340 miles on a single charge. The Ioniq 6 should cost a little under $50,000, which is great value if you're seeking a Tesla alternative.
2024 Hyundai Sonata
Mirroring the ultra-futuristic appearance of the new Kona and Ioniq 6 designs, the 2024 Hyundai Sonata has a revamped curved exterior design. The midsize sedan features details such as a light strip for its headlights and taillights, and there are three new colors to choose from — Biophilic Blue Pearl, Ultimate Red Metallic, and Cream Beige. Inside, you'll find two 12.3-inch displays that make up one long panoramic navigation center, and the cabin will come with upgraded materials of a noticeably higher quality.
Unlike the exterior design, the 2024 Sonata's available powertrains will remain largely the same as in the previous model year, with two naturally aspirated engine options and one hybrid engine. Its base model will get up to 191 horsepower, while you'll be able to upgrade to a 290 horsepower system in the N-Line models. The hybrid will produce up to 192 horsepower. Overall, the 2024 version of the Sonata will be a perfect fit alongside Hyundai's other highly futuristic designs.
2024 Hyundai Santa Fe
Previously sharing the semi-large SUV space with the Hyundai Tucson, the 2024 Hyundai Santa Fe will be a large SUV to help diversify the 2024 lineup. Its design takes inspiration from the Hyundai Galloper from the 90s and early 2000s with its boxy design and angular roof line.
The interior will feature the same curved touch-screen display as the 2024 Sonata, and there'll be plenty of space for passengers with lots of legroom and large windows. The SUV will be available in hybrid and plug-in hybrid models, though Hyundai has chosen to do away with its previously available diesel option due to decreasing demand. Though Hyundai hasn't dismissed new powertrain specifications as a possibility, there's a chance the 2024 Santa Fe will feature the same systems as its previous model, which produces up to 261 horsepower. Hyundai expects the 2024 Santa Fe to debut in late 2023.
Shop the All-New 2024 Lineup at Allen Turner Hyundai
It's clear from Hyundai's revamped lineup that the company doesn't intend to slow down when it comes to pursuing its goal of having a fully electric portfolio by 2040. Depending on their respective release dates, each 2024 model will be available for test drives and purchase here at Allen Turner Hyundai. Located in Pensacola, FL, and serving the entire Emerald Coast, we're proud to be one of the best dealerships in the area with a full brand-new inventory as well as an expansive range of used cars. Whether you're looking for an EV or another of Hyundai's classic vehicles contact us today so that we can help you find your dream vehicle.
Image by Hyundai Motor Group is licensed with Unsplash License