The Hyundai Santa Cruz named 2022 Best Pickup
The Hyundai Santa Cruz has received the Northwest Automotive Press Association's (NWAPA) Best Pickup Truck award for the second consecutive year. This is an amazing achievement for the Santa Cruz, as it's only been on the market since 2021, and solidifies its reputation as a uniquely versatile compact truck that can easily work as an SUV or a family car.
About the NWAPA's Best Pickup Truck Award
The NWAPA was founded more than 30 years ago and comprises a group of automotive writers. The 45 voting members represent various media outlets, such as magazines, newspapers, websites, media groups, and radio stations. They gave the Best Pickup Truck Award to the Santa Cruz after a rigorous selection procedure that included> 20 different SUVs, pickup trucks, and crossover vehicles.
All testing took place over two days at The Ridge Motorsports Park in Shelton, Washington, on courses designed specifically for this event. On the first day, the vehicles underwent a thorough evaluation of their acceleration, braking, road agility, and handling on a specially designed pavement course. Off-road performance was tested on the second day, with special trials to assess the vehicles' traction, clearance, and general ability to make their way on bumpy terrain.
An Excellent Choice in Any Trim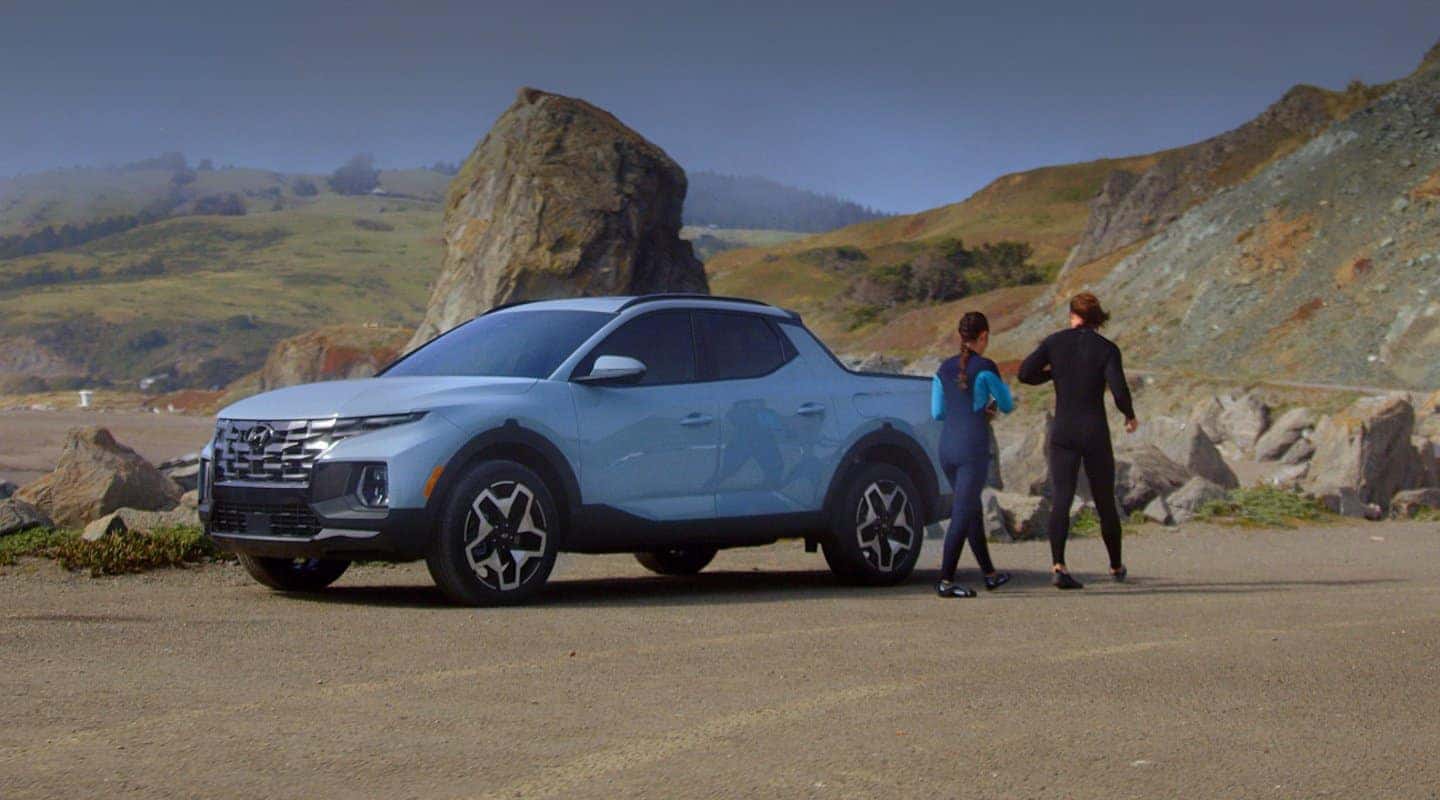 The Hyundai Santa Cruz is a great choice for both SUV and pickup truck buyers, as confirmed by the NWAPA's award. Its elegant design, reliable powertrains, and advanced modern technology are just some of the features you get, regardless of the trim you choose. Trims and their standout features include:
SE: Although it's the basic trim, you wouldn't know it by simply looking at the list of available features. These include the large 8-inch touch-screen interface, six-speaker sound system, seamless smartphone connectivity through Apple CarPlay and Android Auto, and multiple useful driver aids.
SEL: The second trim option improves upon the basic version by adding more features, including heated mirrors, push-button start, keyless entry, heated front seats, and extra driver aids. It can come with an Activity package that adds a sunroof, roof rails, a digital instrument cluster, and wireless smartphone charging, among other features.
SEL Premium: The SEL trim's Premium version includes all features of the Activity package, plus a few others. They include LED headlights, a leather-wrapped steering wheel, and standard all-wheel drive.
Limited: The Santa Cruz's top trim is packed with luxury features. They include elegant leather upholstery, a larger 10.25-inch touch-screen interface, ventilated front seats, a premium Bose sound system, and even more driver aids.
Multiple Powertrain Options and Excellent Road Performance
The 2022 Hyundai Santa Cruz comes with two powertrain options. The standard is a 2.5-liter four-cylinder engine with a maximum output of 191 horsepower and 181 pound-feet of torque, paired with an eight-speed automatic transmission. Front-wheel drive is standard for this powertrain, with all-wheel drive being available as an option. While 191 horsepower is usually enough for most everyday tasks, drivers who want more can choose the second powertrain. The turbocharged 2.5-liter four-cylinder engine pairs with an eight-speed dual-clutch automatic transmission to produce up to 281 horsepower and 311 pound-feet of torque.
Both powertrains make the Santa Cruz very agile and quick off the mark, despite its size and pickup-truck-like capabilities. When equipped with the standard engine, it can reach a speed of 60 miles per hour from a standstill in around eight seconds, which is a highly respectable time that beats some smaller sedans and hatchbacks. The turbocharged engine reduces the 0-to-60 time to around six seconds, which is even more remarkable. Acceleration is a major part of the NWAPA's testing system, and the Santa Cruz is among the best in its class.
Highly Useful Driver Aids
Regardless of its design, features, performance, and capability, no modern vehicle is complete without multiple active safety features that help the driver avoid potential dangers on the road. Useful driver aids on the 2022 Santa Cruz include:
Forward collision mitigation system: It warns the driver when it senses an impending frontal collision and even hits the brakes to mitigate the potential impact.
Lane-keeping assist system: It automatically steers the Santa Cruz back into the center of its lane if it senses it drifting without the turn signal being activated.
Rear cross-traffic alert system: It issues a warning if another vehicle is about to intersect with the Santa Cruz while you're driving in reverse.
Blind-spot intervention: It prevents you from changing lanes when another vehicle occupies the adjacent lane and is in your blind spot by steering the Santa Cruz back into its original lane.
360-degree camera system: It gives you a top-down view of the Santa Cruz to help you when parking in tight spots.
Adaptive cruise control system: It keeps a safe distance between the Santa Cruz and the car in front of it by constantly adjusting the speed.
Great Storage and Towing Capabilities
Finally, with the Santa Cruz being a utility vehicle, its ability to tow and haul cargo can be an important factor when deciding to buy it. Although its bed is shorter than the one you might find on larger pickup trucks, you can lower the tailgate and increase its capacity.
There's also an in-bed trunk with its own drain, which can be helpful when carrying cargo that might leak, such as ice or muddy equipment. If you plan to use the Santa Cruz to carry a large boat or trailer, you'll be happy to know it can tow up to 5,000 pounds, which should be enough for most camping trailers and recreational boats.
Winning the NWAPA's Best Pickup Truck Award is proof the Hyundai Santa Cruz is an excellent choice for any Pensacola driver who's in the market for a small pickup truck. While this is an impressive achievement considering the stiff competition in this sector, winning it two years in a row is further proof that Hyundai's pickup truck is an amazing all-around vehicle. You can see the Santa Cruz for yourself by visiting us at Allen Turner Hyundai.
More Posts You'll Like